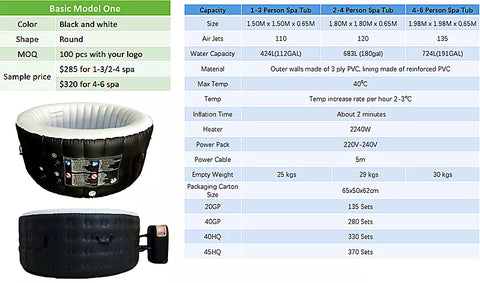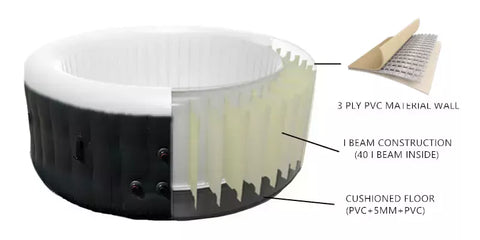 Inflatable hot tub has the following features:
* SIMPLE & FAST TO SET UP : Just connect the inflatable spa tub to the pump, and turn on the air blower. The hot tub will be fully inflated within 3 minutes. Then cover it with the dust cover to maintain the water temperature, and prevent dust or small particles from getting in the hot tub. No professional tools are needed to install this portable spa.
* EASY TO OPERATE: The digital control panel lets you dictate the water temperature (up to 40 degrees Celsius) and pressure of the jets.
* DURABLE & STABLE & COMFORTABLE: The spa tub wall is made of durable, tear-resistant polyvinyl chloride (PVC), this UV resistant material increases the spa's lifespan and strength. The spa's 40 I-beam construction and cushioned floor offer superior durability, structural stability and great comfort while ensuring the hot tub still retains its shape.
* PORTABLE & FLEXIBLE: The hot tub can be moved around with ease, so you can make any place your spa area. If the spa pool is not used for several days, you can drain the water and air to store it in a space-saving way.
More Details
The 2-4 persons Inflatable Hot Tub is one of our bestsellers. With seating room for 2-4 persons and a 120 Air Jets massage system, the spa is perfect for a couple or a family with only one kid. Its cushioned floor, inflatable walls and 40 vertical I-Beams combine stability and comfort, whilst its coated cover and inflatable lid protect and insulate this inflatable hot tub.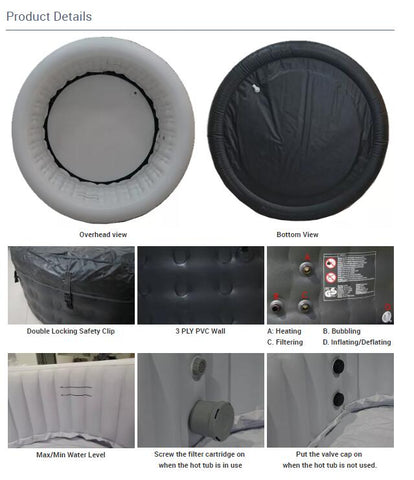 Air Leak Test
Each inflatable spa tub will be tested twice for any possible leakage problem.、
、
Each batch of material undergoes a long-term strength test. Make sure there are no problems with the material.
Package